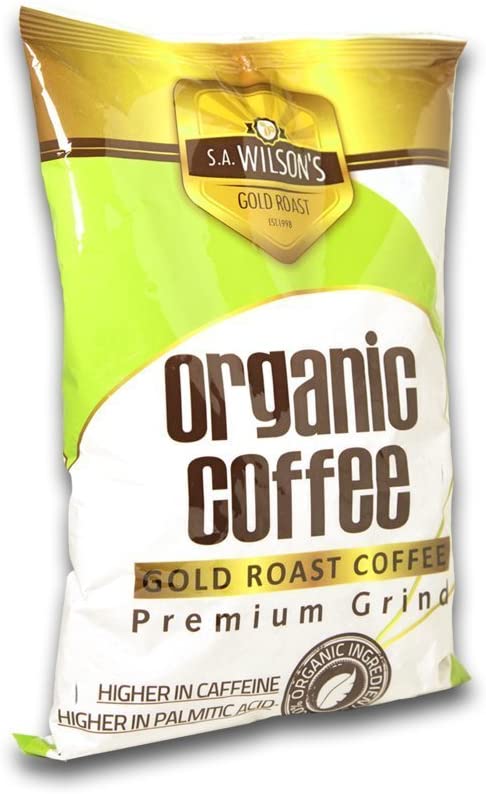 HolisticNeeds
S.A. Wilson's Organic Coffee
100% USDA CERTIFIED ORGANIC Coffee. No additives or fillers ever used.

44% MORE CAFFEINE and 87% MORE PALMITIC ACID: S.A. Wilson's Gold Roast coffee is the first and only coffee that has been specifically blended and processed with higher levels of caffeine and palmitic acid than regular, commercially available coffee, to assist with optimal detox. All the coffee is TESTED to GUARANTEE these higher levels of caffeine and palmitic acid.

COFFEE SPECIALISTS: With nearly 20 YEARS OF EXPEREINCE as coffee enema specialists, SA Wilson leads the industry in providing exceptional coffee to assist individuals with the ultimate detox. 100% ORGANIC INGREDIENTS: Organic Coffee, Roasted and Ground. Product of Canada.

COFFEE USED BY MORE PROFESSIONALS: SA Wilson's coffee is recommended by more health professional than any other single brand of coffee!

ENEMA COFFEE: The difference between regular drinking coffee and SA Wilson's gold roast coffee is the sourcing of the coffee beans and the roasting process. SA Wilson blends over seven different beans and uses a special infusion process that optimizes the prime elements in the coffee that produce an enhanced blend made with ONLY enema use in mind.
---
Share this Product